Objectives
This initiative aims to facilitate the engagement of people with lived experience (PWLE) throughout Canada by enhancing national peer networks. Participants engage in implementation science projects and identify advocacy priorities to converge on a national set of actions to address the opioid crisis.
Working Group
BC representatives: Alex Sherstobitoff (ANKORS); Garth Mullins & Dean Wilson (BCCSU);
Prairie representatives:  Karen Turner (Boyle Street Community Services), Brandi Abele (CAPUD), Dawn Lavand (Manitoba Harm Reduction Network)
Ontario representatives: Frank Crichlow (Counterfit Harm Reduction), Sean LeBlanc (Ottawa Inner City Health), Kathy Pinheiro (Sistering), Michael Nurse (Black Coalition for AIDS Prevention)
Quebec-Atlantic representatives:  Alexandra deKiewit (CAPUD), Matt Bonn (CAPUD), Natasha Touesnard (CAPUD)
PI: Jade Boyd (BC Centre on Substance Use)
Researchers: Alex Betsos (BCCSU), Tamar Austin (BCCSU)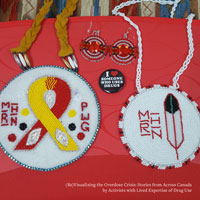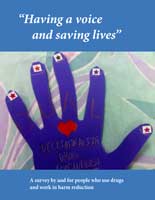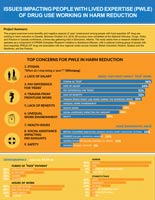 Photovoice Journal
The group also published a Photovoice Journal documenting activism and key issues in their lives
HARM REDUCTION SERVICE WORKERS SURVEY
The national PWLE project group completed their survey at the Stimulus Harm Reduction Conference in Edmonton in October 2018 of 50 participants on barriers faced by harm reduction service workers and created a report and infographic.
An academic article has been published:     People with Lived Expertise of Drug Use National Working Group., Abele, B., Bowser, J. et al. Having a voice and saving lives: a qualitative survey on employment impacts of people with lived experience of drug use working in harm reduction. Harm Reduct J 18, 1 (2021). https://doi.org/10.1186/s12954-020-00453-5
A recording of a webinar on the qualitative survey, led by CRISM/BCCSU researchers and PWLE and organized by Canadian Public Health Association (CPHA), is now available on CPHA's YouTube channel, and can be found here.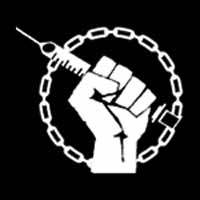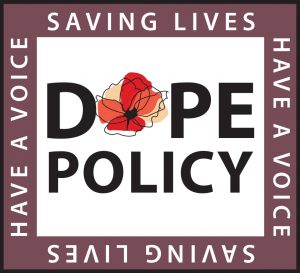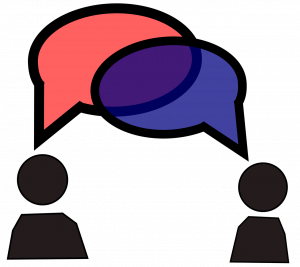 CRACKDOWN PODCAST
The group participates in the development of podcasts with the existing Crackdown Podcast platform
Dope Policy Website
The group is currently in the early stages of developing a multimedia website featuring photos, videos and storytelling that speak to areas of harm reduction, drug policy, personal experiences of PWLE and more
Covid-19 Research
Ongoing qualitative interviews with PWLE regarding their experiences during the COVID-19 pandemic.